Stop in today for your free biotracker assessment.
Introduction to IN.FORM
Every journey begins with a single step and making the decision to take back your health is a big step forward. With nearly every aspect of our environment affecting us, it's making it increasingly harder to stay healthy. Currently 1 in 3 people are suffering from Metabolic Dysfunction and 3.5 Trillion dollars are spent globally, linked directly to the following three conditions:
91 Million Americans are overweight or dangerously overweight.
29 Million Americans suffer from unhealthy blood sugar levels, which quickly lead to other far more serious problems.
And when it comes to matters of the heart, 71 Million Americans have high cholesterol levels.

Unlike any other program on the market, and with the clinical proof to back it up, the IN.FORM program utilizes the untapped power of the microbiome to support healthy metabolic function. Not only will you learn healthy habits for lifelong success but you will have the expert and group support of fellow participants to walk with you every step of the way. And best of all, you can track your progress along the way with our BioTracker, which measures key biomarkers such as weight, body fat, hydration levels, lean muscle mass, bone mass and your metabolic age. Your Metabolic age is the age associated with how effectively your metabolism is functioning. It should be similar to your biological age or ideally, lower.
IN.FORM is a proprietary, clinically-studied program that combines positive lifestyle changes with cutting-edge supplements and education. By supporting a healthy gut microbiome, the IN.FORM program offers a path to healthy metabolic age and function by supporting healthy body composition, weight management, and cardiovascular function all in one easy-to-follow program.
There's never been a better time to start reversing this trend and make the choice to live a healthier, happier life!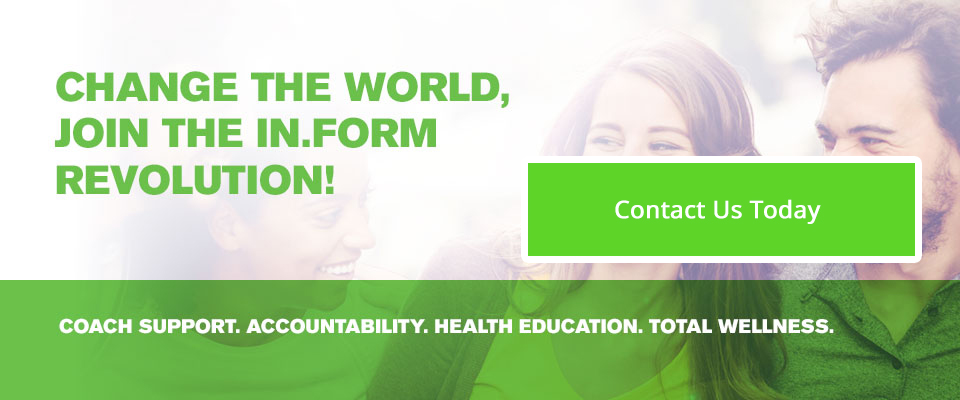 IN.FORM Success Stories: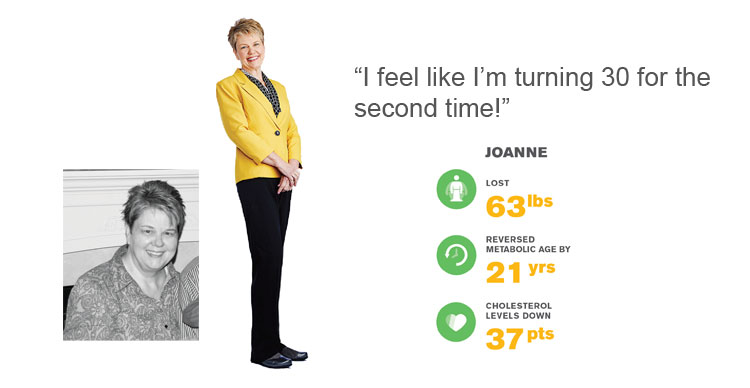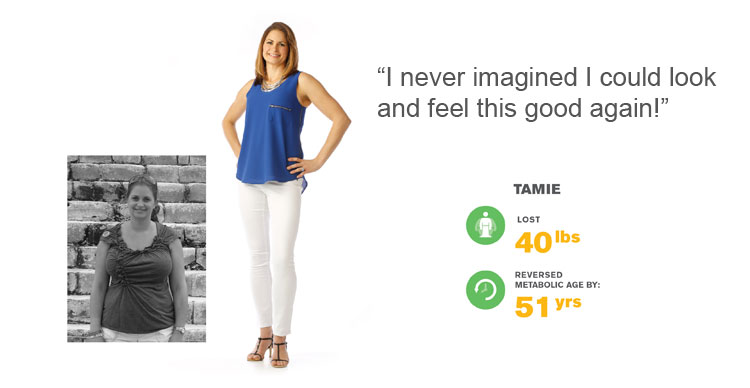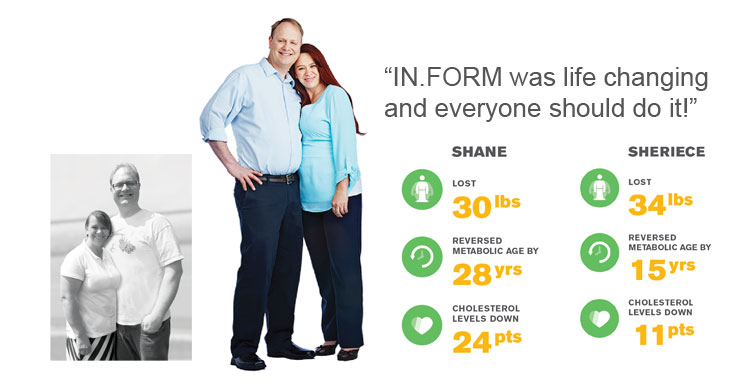 IN.FORM Testimonials (Convention 2016)
Why The Microbiome Is Important
Unlike most modern programs that focus only on the results of metabolic disorder, IN.FORM shifts focus to the cause: an unhealthy microbiome.
THE MIGHTY MICROBIOME
Did you know that microscopic organisms called bacteria living on and in your body outnumber human cells ten to one? In fact, the total weight of bacteria in your body can weigh anywhere between two and six pounds! This bustling, hidden ecosystem that resides primarily in your gut is known as the microbiome, and emerging science is quickly gaining an understanding of just how important these billions of microorganisms are to our health.
AN IMBALANCED BIOME
Modern diets, stress and environmental toxins can upset the delicate balance of our gut microbiome.
How? Too many 'bad' bacteria in our microbiome can create toxins that make us fat.
Diets high in added sugars and carbohydrates lead to greater populations of certain kinds of microbes that produce toxins. These toxins cause us to use energy inefficiently and store too much of it as fat. Over time, this process can develop into poor metabolic function and unwanted additional weight. These cascading effects can cause our body to operate like that of someone much older! In other words, an unhealthy microbiome can add years to our 'metabolic age.'
There is hope!
Clinical Proof:
While others may say they have an innovative solution for your health needs, Nature's Sunshine has actually put our program to the test through clinical scrutiny. The Hughes Center for Research and Innovation conducted an independently reviewed clinical study to show just how revolutionary the IN.FORM program truly is.During a 90 day period, two groups of generally healthy individuals with key biomarkers indicative of metabolic health already within the normal range were monitored for improvement. Both groups followed diet and exercise recommendations but only the second group received the added benefit of the IN.FORM product protocol.
MEASURABLE SUCCESS
At the end of 90 days, the group who received IN.FORM products experienced median improvement in the following areas:
12% reduction in body weight
21.5% reduction of fat mass
51% reduction in triglycerides
15/10 mmHg reduction in blood pressure
(11% reduction in systolic and 12% diastolic)
18% reduction in total cholesterol
19% reduction in LDL 'bad' cholesterol
GREATER RESULTS
Comparison based on a range of reported data published by commercial weight loss programs in the U.S. Study participants experienced greater results with IN.FORM Supplements than with diet alone.‡
56% more weight loss
65% more fat loss
125% greater reduction in systolic blood pressure and
62% greater reduction in diastolic blood pressure
66% greater reduction triglycerides
129% greater reduction in total cholesterol
80% greater reduction in LDL 'bad' cholesterol
Competitive Advantage
When compared to published studies on many popular, brand-name weight loss programs†, the IN.FORM program outperformed EVERY ONE in several key biomarker indicators including:
Increased weight loss between 44%-123%
Increased fat loss between 15%-233%
Greater improvements in triglycerides, total cholesterol and LDL cholesterol
Comparison based on a range of reported data published by commercial weight loss programs in the U.S. See Reference section below for details.
At the end of 90 days, the median weight loss for those who received the IN.FORM products was 26 pounds of body weight and 17 pounds of fat!
---
References: Comparative data published by leading U.S. commercial weight loss programs
Truby, H. et al. Randomised controlled trial of four commercial weight loss programmes in the UK: initial findings from the BBC 'diet trials'. BMJ 332, 1309-14 (2006)
Lee, K. et al. Efficacy of low-calorie, partial meal replacement diet plans on weight and abdominal fat in obese subjects with metabolic syndrome: A double-blind, randomized controlled trial of two diet plans – One high in protein and one nutritionally balanced.
Int. J. Clin. Pract. 63, 195-201 (2009)
Treyzon, L. et al. A controlled trial of protein enrichment of meal replacements for weight reduction with retention of lean body mass. Nutr. J. 7, 23 (2008)
Shaklee. A 12-Week Pilot Study to Assess the Safety and Efficacy of the New Shaklee Weight Management Program. At http://www.physicians.shaklee.com/displayContent.htm?fileName+weight_ loss.xml§ionName=shakScience
†Diets low in saturated fat and cholesterol that include 2 grams per day of phytosterols eaten with meals or snacks may reduce the risk of heart disease. A serving of IN.FORM Whey, Pea or Soy shake supplies 2 grams of phytosterols
1. Metabolic Age Support Shake
2.IN.FORM Cardio Kit
3.IN.FORM Berberine
4.IN.FORM Probiotic
*These statements have not been evaluated by the Food and Drug Administration. This product is not intended to diagnose, treat, cure, or prevent any disease.

THE BOTTOM LINE
IN.FORM utilizes the untapped power of the microbiome to lower metabolic age. It does this through lifestyle changes combined with proprietary, patent-pending supplementation that targets gut nutrition to support optimal body composition and cardiovascular health.
IN.FORM is completely different than anything else on the market, with the proof to back it up.

241 days ago I embraced a wellness journey. Tired of feeling sluggish and puny, I researched different "diet " programs. I knew I wanted more than just to loose the lbs. I wanted to gain muscle, Burn Fat, loose inches, and most importantly, renew my energy! I had been exercising/teaching water aerobics 2/3 days each week for over 3 years and I was getting great results from this and was ready to complete my health vision! After researching several great programs I began my wellness journey. To date I have lost over 30 lbs, renewed my energy level, ditched 28+ inches, raised/reduced many body function numbers while living a healthy and fun life. I'm NOT Selling a Thing friends, but [am] HAPPY to Share how I burned my fat and easily made the last 241 days happy and healthy! WISHING YOU ALL A HAPPY & HEALTHY NEW YEAR!
Koreen Houser